The Subscription Function for The Mirror – Some Technicalities
Posted: November-03-2010
in
The Mirror, Vol. 14, No. 689
Until the end of the month of August 2010, The Mirror was published daily – though sometimes with some delays related to technical problems, or because I was traveling and could not accomplish things in time. We had to discontinue to produce daily English translations from the Khmer press for financial reasons with the end of August. But the fact that we had a regularly increasing number of visits per month (starting with zero at the beginning of 2007 and up to and over ten thousand earlier in 2010) and letters of interest from readers were an encouragement to continue in a new form.
With some hesitation, I would also like to say that it was – on the other hand – disappointing that the invitation to assist in the covering of costs, at the right upper corner of the page,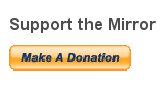 found hardly any response; all the more I am grateful to the very few who assisted in covering some of my costs. This very low level of response was disappointing because it was in stark contrast to the steadily growing number of readers of The Mirror. And I dare to point to this also because I did not get any remuneration for my work since the end of June 2006. Also the cost of Internet access in Cambodia is still quite high, compared to many other countries. Whoever likes to continue to read The Mirror also in its new format, and can afford to support this work – please consider to do it. Any such help will be highly appreciated.
Where most of our visits come from can be seen here:
As I had promised, I will continue to write for the new Mirror, "mirroring" events and dynamics in Cambodian society (though not accompanied by daily translations) at least a regular contribution for every Sunday, and additional pieces of information or comments and opinion also during the week, but, at present, not every day. We may be able to increase the frequency of publications over what was possible during recent weeks while I had to be out of the country.
As the publications will not be daily, I want to point again to the possibility of subscription to get The Mirror delivered into your mailbox automatically, when ever there is a new issue.
Below the sections
Have a look at last week's editorial:
and
Previous editorials:
there is the line
Subscribe to The Mirror
You can click on this line (-not here, but up on the right side, in the first narrow column-) with the mouse pointer to open the fields where you can enter your address if you want to get The Mirror delivered into your mailbox.
Unfortunately this subscription program did not work for some time – the problem is now fixed, and I am informing all former subscribers by email that we can offer this facility again.
And as ever: feedback – opinions – suggestions – criticism – will always be read with interest. Always hoping that The Mirror can become a better and more useful instrument of social communication.
I want to close this with pointing to the Comments and Discussion section. Unfortunately, we have not yet found a way to provide a better layout for this, given the restricted space on the start page. But it is encouraging to read feedback coming in there. This should not only, and not so much, be considered as a place for "Letters to the Editor" – but it would be good to see more of an ongoing discussion among different readers with their different comments on what had been published in The Mirror.
Thanks for your continued interest, and, where possible, also for your response.
Norbert Klein
mirror [at] gmx [dot] org
This article was first published by The Mirror, Vol. 14, No. 689 - Tuesday, 2.11.2010
Have a look at the last editorial - you can access it directly from the main page of The Mirror.
Norbert Klein is the Editor of The Mirror – The Mirror is a daily comprehensive summary and translation of the major Khmer language press - More about The Mirror
Login to post comments

5286 reads