Sex work is still stigmatized in Cambodia, a largely conservative nation, despite what Street 51s more than healthy hostess bar trade may lead you to believe. A group of sex workers has decided to create a union and ask for the right to work—and most interestingly, they want to let people know that they don't consider themselves victims, and they are not asking for anybody's sympathy.
Good traditions – but looking towards the future – should be developed. The following is such an attempt, following on publications during the past years. On 11 March 2007, I had written about the origins of the International Women's Day, related to the first all women's strikes in the garment industry, in Lowell in Massachusetts/USA. What I consider worthwhile here is to think about the fact that the first strike of women textile workers, as described above, took place in Lowell/USA,
The UN Human Rights Council - an "inter-governmental body within the United Nations system made up of 47 States responsible for the promotion and protection of all human rights around the globe" - had decided, in September 2011,

"to convene, within existing resources, at its nineteenth session, a panel discussion on the promotion and protection of freedom of expression on the Internet, with a particular focus on the ways and means to improve its protection in accordance with international human rights law."
It further requested "the Office of the United Nations High Commissioner for Human Rights to liaise with relevant special procedures, States and other stakeholders, including relevant United Nations bodies and agencies, with a view to ensuring multi-stakeholder participation in the panel discussion."

This story won the grand prize for "Story by an individual" award in the LIN Volunteer Stories Competition 2011. The competition was organised by LIN Center for Community Development, a philathropic institution that supports grassroots non-profit organisations in and and around Ho Chi Minh City. Words by Nguyen Huong Dao. Translated by UNV volunteers
I would like to tell you a story about the Nam Dinh Trash Team. It is special for me, and hopefully for you too. I am pretty sure about this.
Posted: February-21-2012
in
While I was in Myanmar for a week, there were also the celebrations for the 65th Union Day, remembering events in 1947 which led to independence from colonial rule. In his speech at the occasion, U Thein Sein, the President of the Republic of the Union of Myanmar, did not only look back, but also into the future, reflecting the new policies of the new government:
Posted: February-17-2012
in
Ryan Tong and Kosal Khiev are on a mission. Part of new arts collective Studio Revolt, these Asian-American activists – one a youth worker, the other a former refugee and convict recently deported from the US to his native Cambodia – are using poetry to teach orphans the delicate art of self-expression. Ninety kids aged seven to 16, who survive by scavenging from Phnom Penh's dump sites, are embarking on a voyage of self-discovery through spoken word at local NGO A New Day Cambodia.
Posted: February-16-2012
in
This is just a brief note saying that I was in Yangon for one week, to attend a Barcamp meeting of about 4,000 computer users of different levels. I will report more, and not only about this meeting. Also about visiting several lakes in the city of Yangon. And also about the impressive political changes taking place since my last visits at the Barcamp meetings 2010 and 2011.
But I would like to take this opportunity to share two pictures - the first I took a few years ago, after take-off from Phnom Penh, and the other before landing to Phnom Penh yesterday.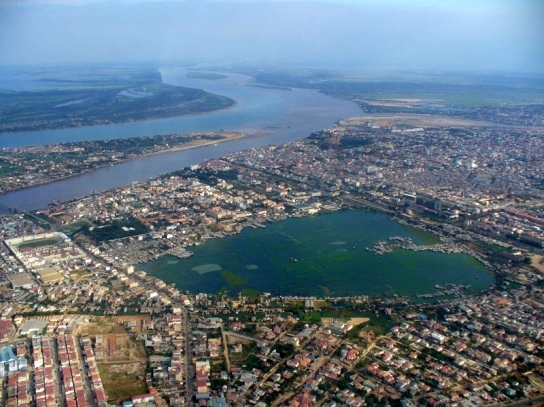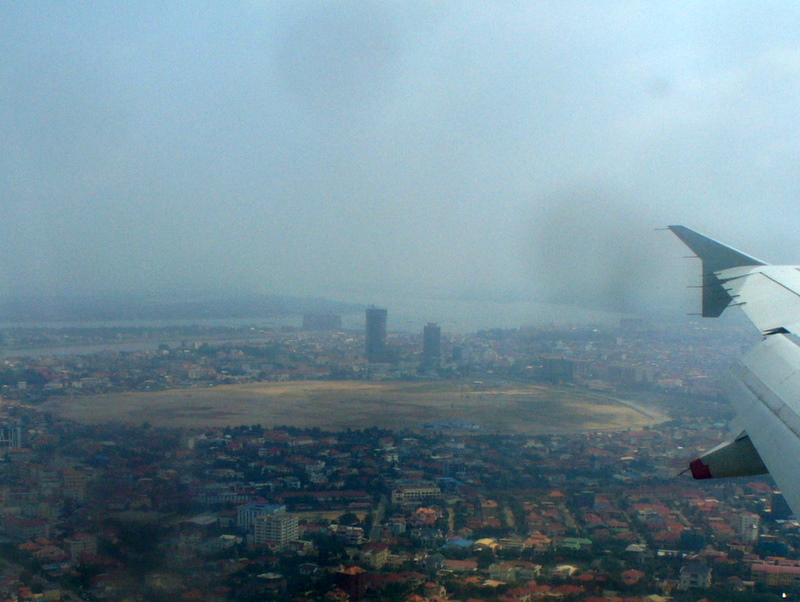 Posted: February-08-2012
in
The Phnom Penh Post had reported on 31 January 2012:

A Cambodian People's Party member found guilty of attempted vote-buying in last Monday's Senate election had been let off too lightly with a fine and should face legal action, an opposition Sam Rainsy Party councilor said yesterday.
At a hearing of the Battambang Provincial Election Commission last week, CPP member Cheam Pe A was fined US$1,230 after he was caught on tape offering SRP Tuol Ta Ek commune councilor Mok Ra $700 to cast his vote for the ruling party.

Vote buying is bad – hardly anybody will defend it openly, though it is probably being done a lot – and not only in Cambodia.
Posted: February-03-2012
in
This is to document events related to the shooting of villagers on 18 January 2012 who saw their land getting lost – until finally the Prime Minister intervened on 31 January 2012, ordering decisive action to be taken. But new reports on 2 February 2012 do not show that the atmosphere has changed.
Land disputes happened in increasing numbers since many months. Some cases of violent evictions had received also wide international attention – like the destruction of the settlement in Dey Krahom - the continuing conflicts around the Boeng Kak lake (the lake has by now completely disappeared, it has been filled with sand) – and the struggle of a final group of residents evicted from the Borei Keila area.
Posted: January-24-2012
in
There is some follow-up news to the last blog here, from 1 January 2012, on Royal pardons. I had quoted a report saying that Foreign Minister Hor Namhong had stated on 29 December 2011: "There is the law and only prisoners who have served two thirds of their jail term can get a royal pardon from the King."
But contrary to this law, a Russian citizen was set free, a man with enormous financial resources, who had been convicted for sexual abuses affecting young girls from the age of 6 to 16, more girls than in any other court case in Cambodia so far.